The Best Marketing Research Books to Read
In no particular order, here are some recommendations for you:
Market Research Kit for Dummies, by Michael Hyman
Comprehensive user-friendly book to help you identify, obtain, record and analyze research (desk/secondary, qualitative and quantitative) to help you develop or revise a marketing plan, launch a new product or service, or implement long–term strategic planning.
Marketing Research – tools & techniques by Nigel Bradley
A comprehensive and easy-to-read summary of market research techniques, including clear summaries, case histories, discussion of ethics, DIY tips and common mistakes.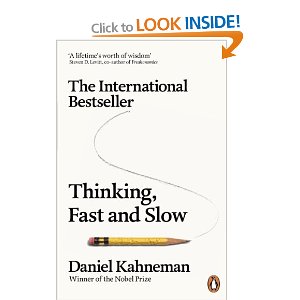 Thinking Fast and Slowby Daniel Kahnemann
is an amazing book. It is Behavioural Economics at its simplest and most authoritative. Don't be misled by the simple popular style into thinking the author is not a very serious heavyweight research psychologist, because he definitely is.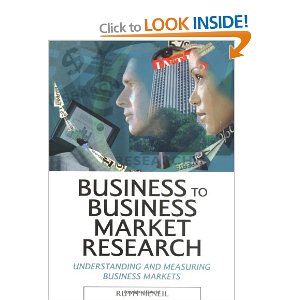 Business to Business Market Research: Understanding and Measuring Business Markets by Ruth McNeil
This comes highly recommended by someone who was told about it by the author herself, at an industry lunch.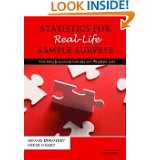 Statistics for Real Life Sample Surveys by Dorofeev and Grant is the best guide to the use of statistics in quantitative research that we have come across.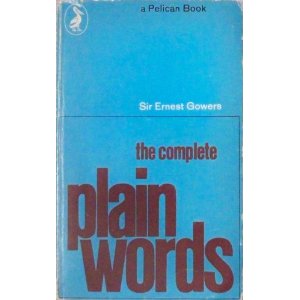 Complete Plain Wordsby Sir Ernest Gowers, Sidney Greenbaum and Janet Whitcut
Anybody who writes proposals or reports in Word shouldn't be without this book.  As the review says, this is "…the essential guide for anyone who needs to express themselves clearly, fluently and accurately in writing".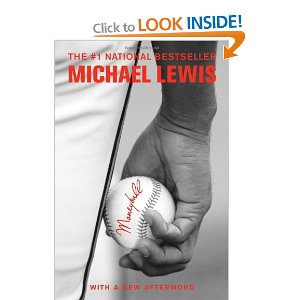 Moneyball – The art of winning an unfair game,by Michael Lewis
This is not a research book as such, but a practical story of how to use and win with statistics. Unputdownable.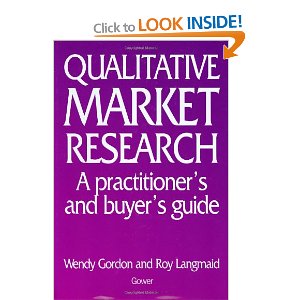 Qualitative Research by Wendy Gordon and Roy Langmaid
is a classic reference guide to good qual research always gets good reviews.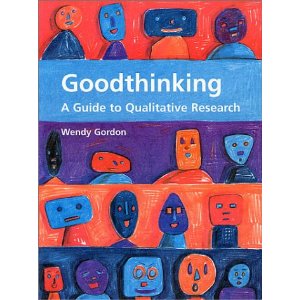 Goodthinking by Wendy Gordon
is another classic, along similar lines, that gives a great overview of qualitative research.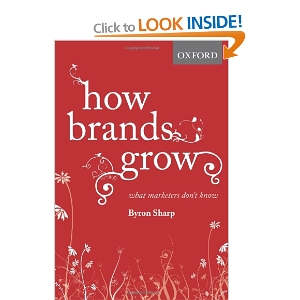 How Brands Grow – what marketers don't know,by Byron Sharp
helps you understand the key principles of marketing and buyer behaviour based on real evidence, not the usual waffle and pet theories!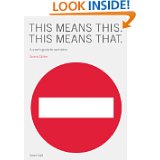 This Means This and That Means That – a user's guide to semiotics by Sean Hall
is great as a really simple introduction to semiotics (otherwise known as the study of signs and sign processes.)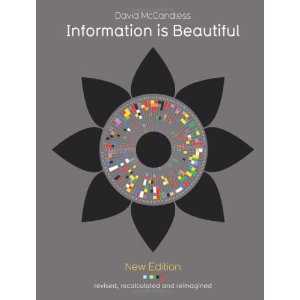 Information is Beautifulby David McCandless
is a guide to visualisation, and makes a nice coffee table book. It's a visual guide to how the world really works, through stunning infographics and data visualisations.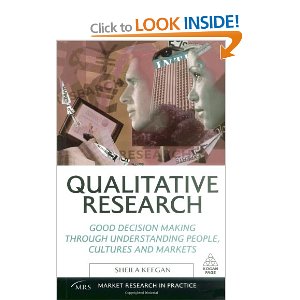 Qualitative Research: Good Decision Making Through Understanding People, Cultures and Marketsby Sheila Keegan
is a very good book. It helps those who have limited experience of qualitative research, to become proficient buyers of research. Well worth reading, even if you've already read other perhaps-similar titles.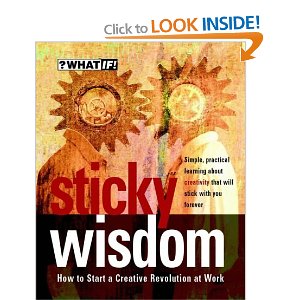 Sticky Wisdomby Dave Allan, Matt Kingdon, Kris Murrin and Daz Rudkin, otherwise known as the What If? People is all about getting creative at work.  Easy to read, and highlights how to access inate creativity in each and
every one of us.