December 2009
Colourful Christmas Customs
Australia
With Christmas at the beginning of summer, temperatures often hit 30°C, so many Australian Christmas traditions have a distinctly outdoorsy flavour. Christmas shopping is often done in shorts and T-shirts, and on Christmas Day itself, many people head for the beach, where it's not unknown for Santa Claus to arrive by boat or surfboard. Merry Christmas!
Catalonia
Tió de Nadal or Caga Tió is a hollow log, which is kept in many houses in Spain's Catalonia region from 8 December onwards. It is 'fed' nightly and covered with a small blanket until Christmas Eve when it is placed in the fireplace and beaten with sticks to produce small gifts like sweets and nuts. Bon Nadal!
France
French children don't hang up their stockings. Instead they put their shoes by the fireplace so Père (or Papa) Noël will fill them with gifts. Père Noël is often accompanied by a rather stern and scary assistant, Père Fouettard, whose job it is to hand out spankings to naughty children. Joyeux Noël!
Greenland
Feeling tired of turkey or goose? How about a little mattak instead? This traditional delicacy (whaleskin with a strip of blubber inside!) is eaten by Greenlanders at Christmas, as is kiviak, the raw flesh of the little auk, which is served after having been buried whole in sealskin for several months. Juullimi Ukiortaassamilu Pilluarit!
Japan
Forget fruit cake, icing and marzipan. In Japan, where Christmas is enthusiastically celebrated, Christmas cakes are often made of sponge, and decorated with whipped cream and strawberries, and traditionally eaten on Christmas Eve. Another favourite Christmas food is fried chicken. Meri Kurisumasu!
Lebanon
A strong contender in the World's Most Glamorous Christmas Tree Stakes has to be Beirut, which each year sports a stylish 25-metre-high tree donated and decorated by international fashion designer Elie Saab. Mīlād Majīd!
Mexico
Is a serial Christmas record-breaker, thanks to one man – Sergio Rodriguez Villareal – who holds several world records for the largest-ever festive ornaments. Sergio's huge decorations include a 5.57-metre-high angel made of beer bottles, a 3.9-metre-high candle made of mirrors and bottles, and a 2.75-metre-high silver bauble made of sheet metal. Feliz Navidad!
The Netherlands
Holland's Sinterklaas, or St Nicholas, certainly knows how to make an entrance. He arrives in the country by steamboat in mid-November, dressed in his traditional garb of red bishop's dress and mitre. He hands out presents on 5 December, Sinterklaasavond, a more important festival than Christmas in the Netherlands. Gelukkig Kerstfeest!
Norway
Christmas wouldn't be Christmas for many Norwegians without the traditional televising of the Czech film Tři oříšky pro Popelku. Based on a variation of the classic Cinderella fairytale, the film was released back in 1973, and is also a Christmas favourite in the Czech Republic, Germany, Slovakia and Switzerland. God Jul!
The Philippines
If you can't wait for the Christmas holiday to end you probably won't want to go to the Philippines. The country is reputed to have the world's longest Christmas season. Carols may be played in shops from as early as September, while the festive season proper kicks off on 16 December with nine days of dawn masses. Celebrations continue until 6 January. Maligayang Pasko!
Russia
An ancient tradition, practised in Russia and other Orthodox countries is the Christmas Eve 'Holy Supper', which consists of 12 foods each symbolising one of the 12 Apostles. Typically the foods served are: mushroom soup; Lenten bread or pagach, dipped first in honey, then garlic; baked cod; fresh fruits; nuts; kidney beans; peas; parsley potatoes; bobal'ki biscuits; and red wine. S Roždestvom Khristovym!
Wales
Horsing about takes on a whole new meaning with the custom of Mari Lwyd, Welsh for 'grey mare'. Dating back to ancient times, it involves the skull of a horse decorated with ribbons and bells, and mounted on a pole carried by a person in a white sheet. When the Mari Lwyd arrives at a house, she engages in a singing contest with the householders, after which she enters the house for more singing, before gifts of food or drink are given. Nadolig Llawen!
And a Christmas Case Study…
What is a typical British Christmas like? The Research Insight team enjoy all kinds of traditions, dating back to childhood (like stockings – rugby socks, actually – filled with small gifts, opened early on Christmas morning). Other traditions centre on food!
For Martin, it's croissants and champagne for breakfast on Christmas morning. For lunch it's the most delicious smoked salmon ever (from http://www.swallowfish.co.uk/), turkey, Christmas pudding and and fruit jelly, followed by "goodies" like figs, dates, crystallised fruit, ginger, marrons glacés, Turkish Delight, nuts and clementines…followed by a much-needed walk with the dogs.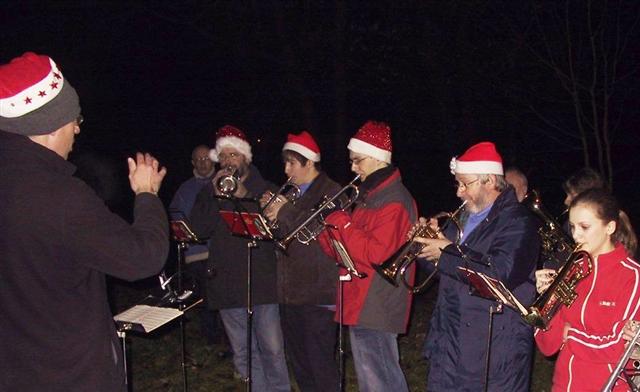 But not all traditions involve food. On Christmas Eve in Blewbury, near our Oxfordshire offices, Father Christmas comes to the village green by sleigh pulled by a herd of (human) reindeer.
Helped by a team of elves, presents are given to local children while villagers sing carols accompanied by the local brass band.
So what does Research Insight offer?
Everything we do helps clients make better business decisions. Our tagline "…because Hunches & Guesswork are not enough!" says it all. We can help you with…
Market landscape research to better understand a market's size, trends and distribution/channel, key players, largest buyers and how they make their buying decisions
Competitor intelligence to ensure you're leveraging your own strengths and addressing/countering those of your competitors
Qualitative insight to get a rich understanding of the views, experiences and opinions of your target audience
Quantitative research to provide statistically-robust evidence to help you make the best possible decisions
Tracking studies to assess progress over time against your company's strategic objectives
Please contact Martin Hollissfor more details.